money transfer apps >> Nowadays you are searching for money transfer apps, but a few years before, there was a time when sending money from one place to another is a very much time-consuming process, most of the time is spent in standing in bank queues and many forms fillings.
All this change has happened because now a day's technology and the internet presenting us faster, secure, and reliable money transfer options by using android/iOS applications.
Now we can use an app for transferring money to anywhere in India/internationally in a few seconds or minutes from your home/offices.
In this article, we will do comprehensive research on the application for transfer money in India. And as a result, we share the information of the top 10 best money transfer apps in India by using these apps you can transfer money to your friends, family, a client within a typical time.
List of Top 10 Best Money Transfer Apps – In India
Bhim App
This is a very good app, for Indians to transfer money from any place to any place within India. Moreover, by using the BHIM app you can do fast, secure, reliable money transfer through your mobile phone.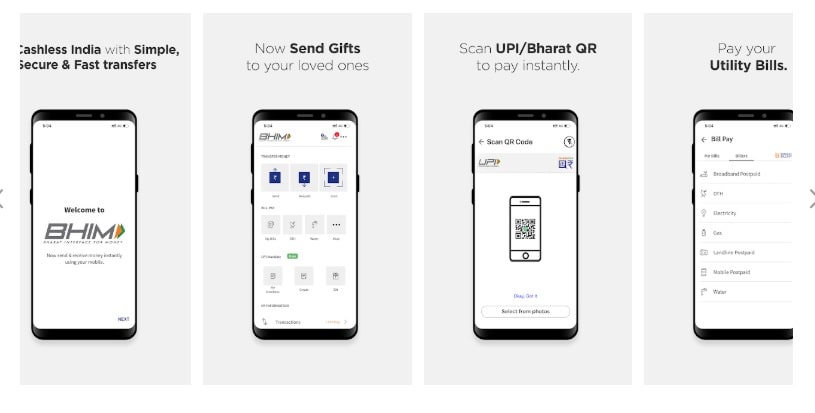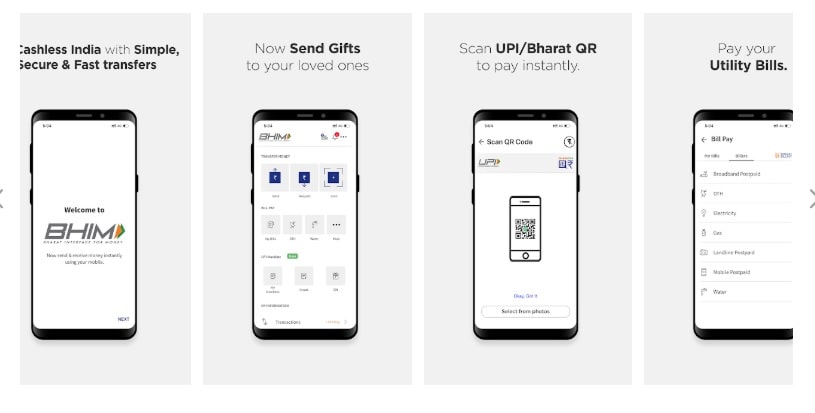 Requirements:
• Your phone should have an active SIM linked to your Bank Account.
• In the case of Dual SIM, kindly ensure that you've selected the SIM card linked to your bank account.
•The mobile number is used for accessing BHIM, which is to be linked with your bank account and also the same is used for accessing BHIM.
• The transaction limit is Rs. 20,000 per transaction and Rs. 40,000 per day (for 1 bank account)
(Please note that your Bank's Transaction Limit may vary from BHIM's limit.)
• This app is compatible with Android 4.2.2 and above.
To Download App Click Here
Google Pay (Tez)
Google Pay is one of the most popular apps in the money transfer apps category. By using this app you should do almost all bank money transfer. It also offers rewards almost on every transaction you should do.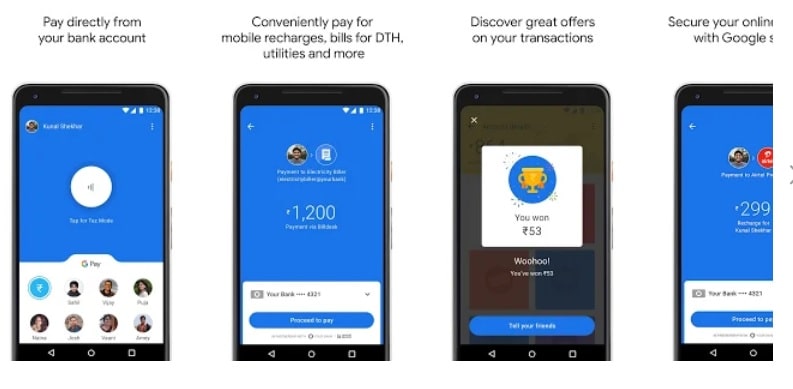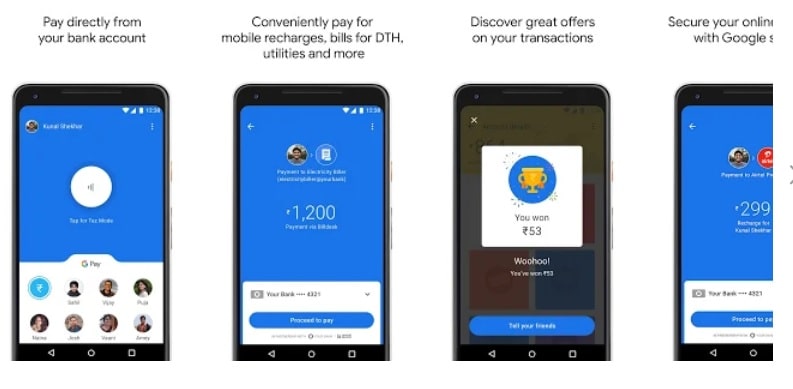 Benefits: –
Pay and receive money directly from your bank account. There is no need for reloading wallets and also you don't need to do additional KYC.
Pay anyone – By entering anyone's UPI ID or bank details.
Conveniently pay bills – By using google pay you can easily pay bills for electricity, gas, water, DTH, mobile, and also many more.
Pay online with Google Pay – You can pay online your hoteling, and also your purchase in the market, even your breakfast bill.
It will protect your money with a world-class security system and also you can safeguard your account with a device lock method.
Transfer money to anyone nearby – This app also has an easy way of money transfer like, Use Tez Mode to send money securely to people nearby without sharing private details like your phone number.
Offer reward – Get scratch Cards in the app and be eligible to win up to ₹1,000 with each eligible transaction. And also, your rewards go directly into your bank account.
Paying in shops is easier than ever – The teashop, restaurant, neighborhood general store, and even your salon can now accept payments on the spot with Tez Mode.
Requirements: –
Need an Indian bank account with a phone number linked to it.
Transaction limit is Rs. 50,000 per transaction and Rs. 1,00,000 per day.
To Download App Click Here
Paytm
Paytm offers a comprehensive list of payment services for both customers and merchants to make seamless payments using the App, credit/debit cards, from banks.
It is India's most used wallet & UPI payments app. Therefore, you can use this app for mobile recharge, postpaid & utility bill payments, UPI payments & money transfer, online shopping, movie tickets, LIC premium payment, bill payment, DTH recharge, bus & flight booking, train ticket booking, metro card recharge, buying gold, making loan payments & more.
By using Paytm you should send money from wallet to wallet or from your bank account to any bank account at 0% charge.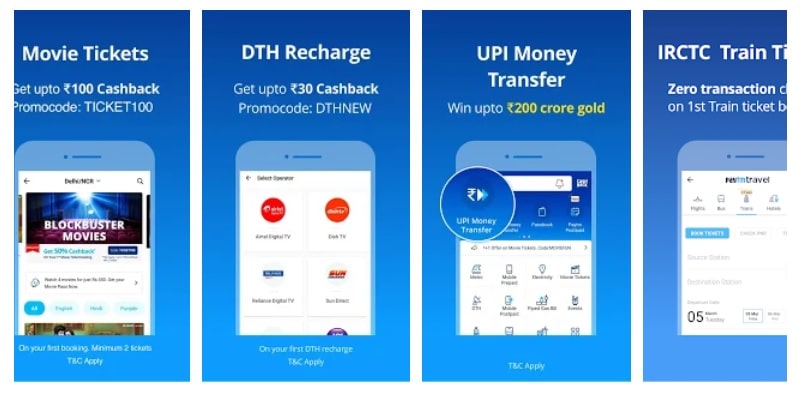 Benefits: –
No service charge on IRCTC ticket bookings.
Best rates on bus & flight tickets.
Also besides Check PNR status, get live train running status & get amazing offers on bus & flight ticket bookings.
Requirements: –
Link to UPI or add money to wallet & scan QR codes at nearby stores for payments.
You need to link your bank account or open a savings account with Paytm Payments Bank.
To Download App Click Here
PhonePe
PhonePe is a frequently used app to make mobile payments in India. From UPI payments to recharges, money transfers to online bill payments, you can do it all and many more as a result of using the PhonePe App.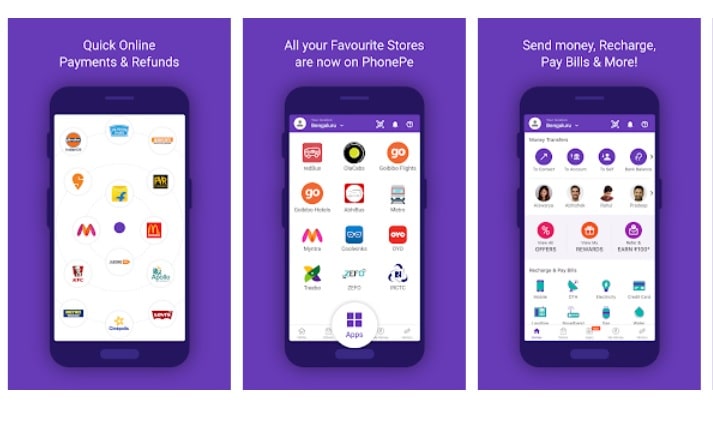 This app works over the UPI platform developed by the NPCI and is powered by YES Bank. The PhonePe app is safe and secure, meets all your payment and banking needs, and is much better than Internet banking.
On the other hand, there is no need to remember IFSC codes, account numbers, or other inconvenient details. You can be made instant bank transfers by just using a mobile number or a unique payment identity.
Benefits: –
You can send money and request money from your contacts from anywhere.
Like other apps in this app also you can do prepaid Mobile Recharge.
Pay postpaid mobile bills.
Pay for electricity and gas bills.
You can also check your account balance and manage multiple bank accounts.
Get refunds and cashback to your bank account directly.
It has a feature to shop on Flipkart, Myntra, Jabong, and other online shopping websites.
You can transact up to Rs.1 lakh per transaction, 24*7.
Also, you can transact in the language of your choice.
In this app currently, over 40 banks are UPI enabled.
To Download App Click Here
Jio Money
Jio money is one of the apps to transfer money through your mobile app in an easy way. It also provides cashback; discount offers for users while purchasing online from the Jio money app. Also, by using this app you can easily buy on any store, pay bills, recharge, ticket booking and many more.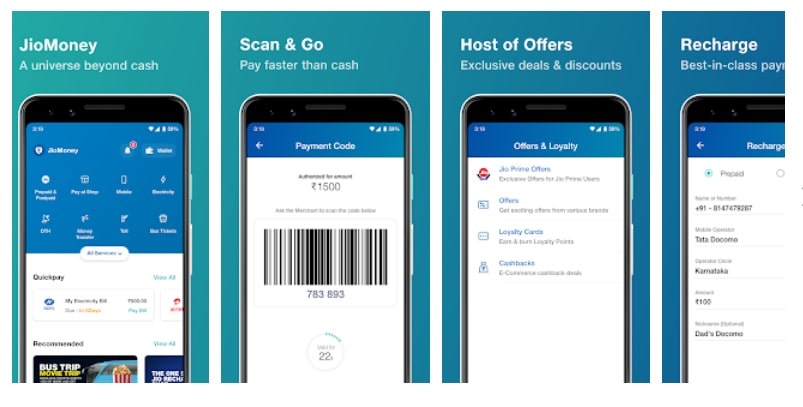 Benefits: –
You can do Jio Recharges & get the best offers on your Jio payments.
Recharge your prepaid or post-paid phone, and also DTH with the unique PayMyBill feature.
You can also make secure bill payments of billers such as Mahadiscom, Mahanagar Gas, Reliance Landline, Airtel, Tata Sky and many more
Make payments faster to a shopkeeper's mobile number
Enjoy exclusive discounts and coupons from JioMoney's partner brands
Book your bus tickets at the lowest price quickly.
You can pay your insurance premiums
Instantly book train & movie tickets
Get additional cashback on your favorite shopping destination such as Amazon, Flipkart, AJIO, ABOF, Jabong & more
Have a feature to pay directly to charitable trusts like Siddhi Vinayak Trust
By using JioMoney, in addition, you can enjoy the convenience of paying at any Reliance Retail outlet.
To Download App Click Here
PayZapp(By HDFC)
PayZapp is the best money transfer app by India's leading privet sector bank that is an HDFC bank. Like other apps, it also has the facility to Recharge, Online Bill Payments, BharatQR Payments, Travel, Shopping, Movies and more in just One Click.
This app is convenient, fast and secure. Link your Debit and Credit Card one time and pay every time.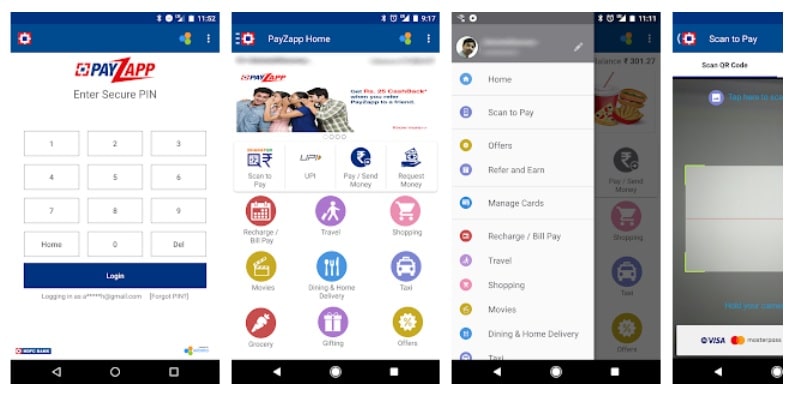 Benefits: –
By using PayZapp you can do a recharge of your mobile, DTH and data card, pay your utility bills, book flight tickets, bus, and hotels, shop, buy movie tickets, music, and groceries, avail great offers at Smart Buy, and also you can transfer money to anyone in your phone book.
There is no need to re-load money again and again. Moreover, your card details are secure with the bank.
It has three security checks for each transaction.
To Download App Click Here
Yono (By SBI)
Yono is also in this category of best money transfer app in India. The good thing about this app is, this app is developed by India's leading public sector bank SBI.
SBI is the most secure and trusted bank in India. One of the basic requirements for using this app is you have an SBI bank account in any branch within India.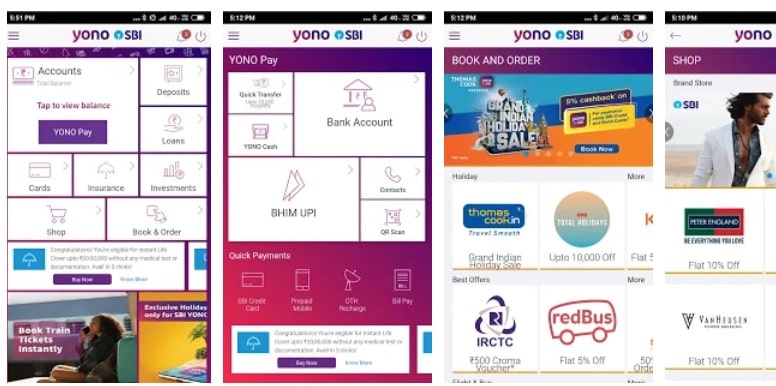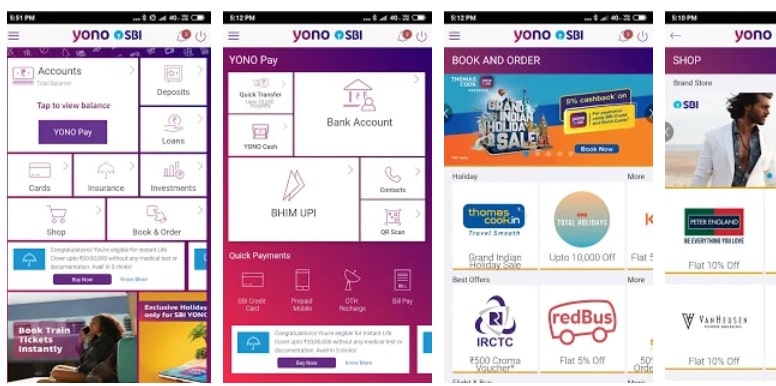 Benefits: –
India's largest shopping marketplace – Be it buying your groceries, the latest electronics, booking your flight/train tickets, or your next vacation, YONO SBI has you covered. Exclusive discounts and offers for SBI customers across merchants who offer shopping, vacation bookings, flight, and bus ticket bookings, train ticket bookings through IRCTC, food delivery, and also much more.
You can check your balance, creating a fixed deposit, and also adding a beneficiary.
You are unable to transfer money to a newly added beneficiary up to Rs. 10,000/-
By linking you can view your relationships with all State Bank entities such as Credit Cards, Life Insurance, SIP, Mutual Funds in one app.
You can easily get pre-approved personal loans on the go within 2 minutes, with no documentation up to Rs. 5 Lac.
And also by using this, you will get a one-click facility to avail overdraft against Fixed Deposit.
Getting started
If you have an account in the State Bank of India, use your internet banking credentials to register and log in to YONO SBI. If you do not have internet banking credentials, you can generate it by using your debit card and also register using the same.
This App is supported on Android 5.0 and above.
To Download App Click Here
Freecharge
Freecharge app also has a feature to transfer money anywhere within India.
By using Freecharge user can pay mobile, gas, electricity, landline, broadband bills, recharges, make charity donations, invest in mutual funds, shop at your favorite brands & pay with Freecharge across categories like movies, entertainment, food, shopping, travel to get cashback & discounts, send & receive money in an instant, link bank account for instant fund transfer.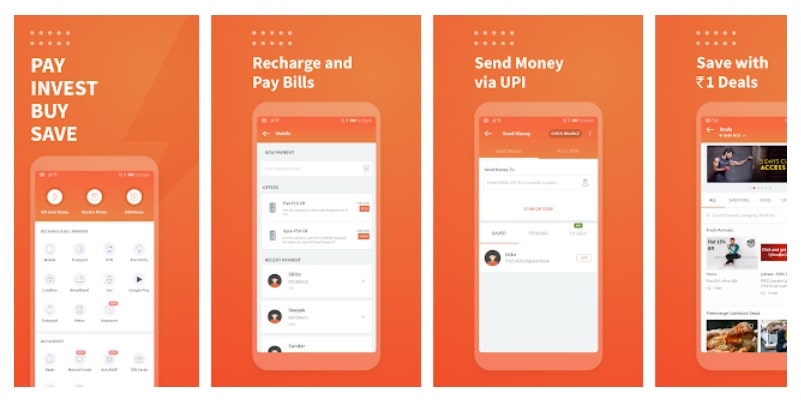 Benefits: –
UPI Payments: Its UPI powered by Axis Bank. You can transfer money by entering just the recipient's UPI ID or bank account + IFSC code, request money, scan & pay, or request money through UPI enabled QR codes.
Mobile Recharges and also Bill Payments.
Also, by using Freecharge you can invest in tax saving Mutual Funds.
In addition, Freecharge has a QR Code Feature, by using this feature you have the convenience of just scanning a QR code for the transaction.
This app allows you to buy amazing discount coupons from your favorite brands.
However, amazing discounts and cashback are available when you transact using Freecharge.
You can easily view the transaction history.
To Download App Click Here
Ola Money
Another online money transfer app which is made available in India is Ola Money. Basically, this is a money wallet, which is easier, fastest and safest.
This app is most widely used by Ola passengers to pay for their OlaCabs rides. Ola Money wallet can also be used at many more places like IRCTC, BookMyShow, eBay, Quikr, Yatra, Goibibo, Cleatrip, Dominos, Cafe Coffee Day, Runner and Mumbai Metro with just one touch.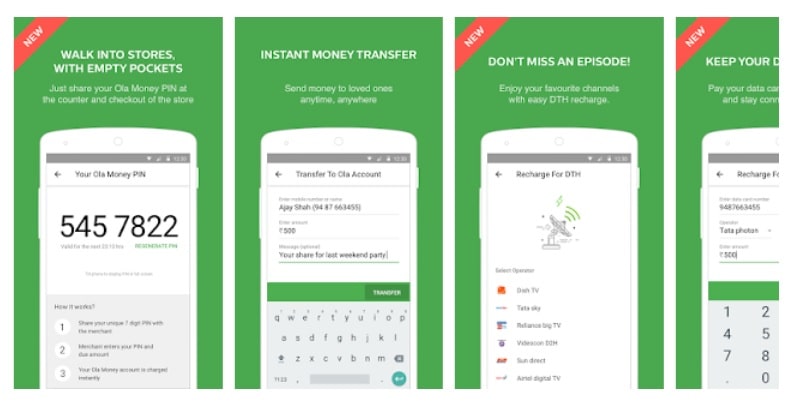 You can recharge your Ola Money wallet via Credit Card, Debit Card, and Net Banking. Also, you can do prepaid mobile recharges, pay your postpaid mobile bills, electricity bills, gas bills and also pay at several stores with just one click.
Benefits: –
Send money to your loved ones anytime, anywhere in India.
Easy mobile recharges and also postpaid bill payments.
Pay Electricity and Gas bills.
Like other apps in this app also you can do Recharge your DTH and Data Cards.
And also you can recharge your Mumbai Metro card.
On a few clicks, you can withdraw your Ola Money from wallet to your bank account.
By using saved debit/credit cards to make even faster recharges and postpaid bill payments.
Check your transaction history.
To Download App Click Here
Airtel Thanks
Airtel Thanks is an easy money transfer app that will empower you to be able to make payments from anywhere and at any time. Most importantly, this is the first payment bank in India to integrate the UPI on its digital platform, Airtel Thanks can facilitate instant fund transfers between two bank accounts on its mobile platform.
By using the Airtel Thanks app you can enjoy amazing rewards and recharge offers. Also, you get benefits of Airtel online recharges like, DTH recharge, easy online mobile prepaid recharge, postpaid bill payments, Airtel UPI, BHIM, and more.
However, the great thing about this app is that it has personalized offers, customized services, and tons of privileges.
Benefits: –
You should get exclusive recharge offers, exciting cashback & also coupons on prepaid online recharges.
By creating Airtel Money Wallet you get guaranteed instant cashback on 1st transaction.
And also you can easily pay your insurance premiums and loan EMIs.
You are eligible to earn 4% interest per annum on your savings bank account.
Also, you should get free personal accident insurance of ₹1 lakh on opening a savings bank account with Aitel Thanks.
Make payments with Airtel UPI instantly.
Get instant cashback on bills, utilities, and also recharges.
With Airtel Payments Bank, Savings Bank account you can get a virtual debit card with a limit of up to ₹1 Lakh.
You can book OLA cabs, train tickets on IRCTC and OYO rooms & also pay via bank or wallet balance.
To Download App Click Here
#Conclusion: –
With such a lot of reliable app choices at hand, transferring your hard-earned cash ought to be a breeze for you currently.
And mind you, all of them on top of online money transfer apps go along with progressive security protocols in situ at each step of each financial dealing you create – thus you can rest simple with the boldness of knowing your cash is totally safe the least bit times.
So go ahead and take your pick.
Android (3) apps (6) Baby Products (10) Health (20) Health Related Products (10) Measurement (2) Mechanical Engg (2) Metrology & Quality Control (2) Products (12) QC (1) udyojak (10) अभ्यास संबंधित (4) उद्योग (13) उपाय (17) कोल्हापूर (1) खेळ (4) ग्रामीण (17) छत्रपती (1) ट्रक (4) ट्रोलिंग (1) देश (20) पैसे (6) प्रेरणा (3) फडणवीस (4) फायदा (3) बिजनेस (18) मशीन (18) महाराष्ट्र (21) महाराष्ट्राचे राजकारण (8) मोदी (2) मोबाइल (3) योजना (1) रजिस्टर (6) रेकॉर्ड (2) लहान बाळ (7) वायरल (4) विदेश (4) विद्यापीठ (3) व्यवसाय (17) शरद पवार (2) शेती (5) संधी (1) सण (19) स्वयंपाक (7) हिंदू (19)